At the moment we have successfully published only one business book – which became bestseller in the category in Latvia. Thanks to the leading Author – Dr. Janis Caune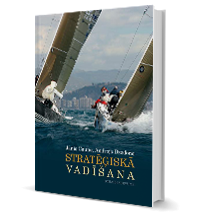 Strategic management
2nd edition (in latvian language)
Pages: 384
Size: B5
Price: 19EUR
Avaialble: Yes
Summary of the book
The situation in economy in general in theoretical approaches to strategic management had significantly changed since first edition of the book in year 2000. – at the moment companies face new challenges and deal with different tasks as it was in year 2000. Changes had inspired Authors to prepare second edition of the book. Second edition is revised and updated version of first edition and is significantly supplemented with new theoretical approaches and researches.
The Authors base the process of strategic management on the concept of competitive advantage which plays central role in management of the company. Creating, developing and sustaining of competitive advantage are shown as central task of strategic management. The entire concept of strategic management is analyzed through achieving of the competitive advantage.
Approach to strategic management is based on the newest theoretical concepts in strategic management mainly with North American and European approach. Author's approach cover major representatives of various strategic management schools and use concepts which in Author's opinion are most appropriate for companies operating in Europe, Eastern Europe and following in Baltic states and Latvia. Various theoretical concepts are supplemented with Authors' own researches, cases and examples about Latvian companies.
The book is divided in four parts: Introduction in strategic management, analysis of existing situation, formulation of strategies, implementation of strategy. The book consists of 12 chapters and one supplement. The structure and sequence of chapters is designed in a way that corresponds to the process of development of strategy for company, covering the following topics: Definition of the purpose of the company, analysis of external and internal environment, business, functional and corporate level strategies' development, management of business portfolio. The following topics of implementation are covered: Development of organizational structure and strategic control systems as well as management of change. Supplement of the book covers research of Janis Caune about Latvian entrepreneurs' understanding about issues of strategic management – the research results can be generalized on Baltic level. Each chapter begins with attractive interview with entrepreneur or manager of organization about the subject of the topic.