New member of team!!! – HORIZON B1 size sheet folder capable to make 4 crossfolds: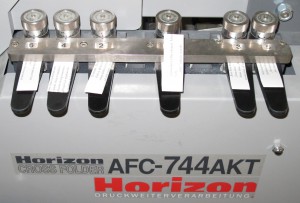 After-printing or post-print processes are equipped with machines that ensure accuracy and flexibility at the same time. Our extensive experience in book and calendar production was the source of few our own designed and produced small equipments. They do not have brand names but help us a lot.
From the standard book production equipment – we have full range of machinery. Our range of machinery is not full of shiny and expensive toys – we have machinery which works hard and is flexible in operation and setting up. See some of them….