Book production is one of our beloved specialties. We are well known small-run producer in the area and in fact we do specialize in small-run book-production using offset printing. Small runs in our understanding is print run of about 1000-3000 copies
We are not shy saying that we use hand work in combination with machinery – it is an advantage. So do not hesitate to inquire us a book starting from 2 pieces… however we are the most competitive starting from 500 pieces up to 10,000.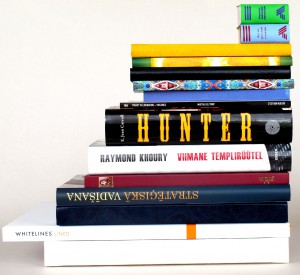 Depending on purpose of the book we would suggest you use either soft or hard cover and hot melt or thread sewing for book block. We do possess all of these technologies.
We are specially proud of our unique technology for preparation of book block we are making only on request – it is book-block fixing with cold glue technology which is really rare technology. With cold glue you can get the best experience on how the book remains open when you open it.
Real sewn book becomes quite rare these days on the market but it definitely provides best book-experience and is most reliable (whatever glue-line manufacturing specialists are saying). Importance comes from the details – see how beautiful is the rose of real sewn book. Rose is the word from technical slang of book-makers – describing the look of rounded book spine.
For our customers we are making dust jackets for books(see below).
Quite common these days is to make several copies of the book in hard cover but the rest of print run in soft cover.
… by the way – Trendy thing is to make special book cases for few copies for very special customers.
The book is nothing without its typesetting and what to do if you do not have it – just tell us you need it and we will do it for you! We do not mind to make typesetting for books with music notes, too!
And what about delivery time? – Usually not more than 2 weeks.
You are mostly welcome to send your inquiry or questions – we will take care of your book!